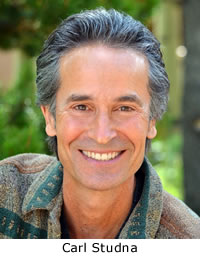 Wisdom, light, and truth are revealed in this unique and rare book by the extraordinary and gifted portrait photographer, Carl Studna. Stories by esteemed authors coupled with exquisite, soulful photographs of icons Paul McCartney, Elton John, His Holiness The Dalai Lama, Marianne Williamson, Deepak Chopra, Michael Bernard Beckwith, George Harrison, and more, show us how to create loving, purposeful, and heart-centered choices throughout each moment (the "click") of our life experience. Carl masterfully weaves a blend of his own personal stories with vulnerable, engaging essays from guest authors such as Tom Robbins, Ram Dass, Kenny Loggins, Kathleen McGowan, Dr. Joe Dispenza, and Cynthia James.

Carl, also a Licensed Practitioner with the Centers for Spiritual Living and a respected transformational leader, says, "I began to realize that if people could feel comfortable, trusting, and fully present in being themselves in front of a camera, embodying these qualities in their day-to-day lives should be a piece of cake. I'm absolutely clear that the key element that must be present to reflect an authentic image in every moment of the camera's click is love. When we are steeped in the pure essence of loving ourselves, everything in our lives must align with this atmosphere of wholeness."

Click! is a unique combination of a personal growth book and a photography book. Carl's readers will experience the added benefit of enjoying having their picture taken, thus sharing photographs that truly reflect their beauty and unique message to the world. His impactful book exemplifies the powerful message of what an authentic picture can reveal, and how we can make a difference by honoring our full expression.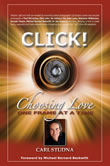 Carl Studna is a multi-faceted photographer/videographer, author, lecturer, and spiritual counselor. Studna's intimate portraits of influential people ranging from Paul McCartney to His Holiness the Dalai Lama are published and known worldwide. The primary theme that weaves its way through Studna's lectures, interviews, and published works is that life is a sacred journey to be cherished and embraced, awakening to the splendor that lies in life's seemingly ordinary moments.
CLICK! launches on November 1, 2012; pre-orders are available now on Amazon.com (or wherever books are sold).
CARL STUDNA CONTACT:
Lisa Livingstone - lisa@carlstudna.com - (303) 271-0860